The day after a successful community action, Guild members kept up the march for middle-class jobs.
Showing sustained determination, Dayton Newspaper Guild members and supporters marched in unity again on Thursday, April 12, between bargaining sessions with the company.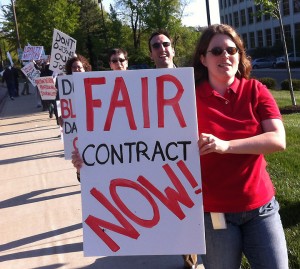 Guild members took to the sidewalk in front of the Cox Media Group Ohio headquarters for the third time in four weeks. The night before, members leafleted a company-sponsored community coffee event.
Rally-goers again protested the Dayton Daily News' efforts to degrade working conditions in its newsroom. Among its demands, the newspaper wants unlimited power to use freelancers to replace the professional journalists who serve as the community's watchdog.
Guild members were supported in the Thursday march by five members of the newly-organized 99% Spring Action group.
The Dayton Newspaper Guild represents more than 90 reporters, photographers, copy editors, web designers and editorial assistants who work for Cox Media Group Ohio, including the Dayton Daily News.